Hi, and welcome to the Relevant Yield Feature and Information Letter!
Dear user of Relevant Yield, we would like to introduce you several improvements we have made during the last couple of months; and we hope you are happy with what we have added:
HB Manager - what is it, and how can it help me?
Several new SSP connections
Template bar and other GUI updates
Buyer dimension in Reports and dashboards
Support website launched
Xandr Adserver detailed bid logs
1. HB Manager
The HB Manager basically moves all the Prebid (Header Bidding) functionality and settings from your website into the Relevant Yield interface, making it possible to change your Header Bidding settings in real-time. These are just some of the things you can change: Cross-SSP floor price change, add/remove SSPs (bidders), add formats/dimensions, create site/section/page specific setups of your prebid calls etc.

In summary: We have completely removed the AdOps teams' dependency on the internal tech team after the initial deployment - and unlike other wrapper solutions, we give all the setting and option power straight to you through the interface; so no more asking other people when you want to make changes.

What is in it for you:
Complete control, with instant feedback from your Prebid changes through the Header Bidding Analytics reporting. If you are not doing Header Bidding today, this is the perfect tool to get you going! If you are doing Header Bidding already, this could significantly improve the control and power of your Yield or AdOps team and save your technicians a lot of valuable time.

Examples:
You can set a floor price across all your bidders, and then see the change in performance in real-time (3 seconds later) through HB Analytics.
You can disable or add a bidder with a couple of clicks, and add IDs through the page setup, meaning that you can do all the new bidder testing you want, without having to wait for deployment or worry about dependencies. This makes it much easier for you to evaluate new technical partners, and work with more providers at the same time.
Fully supports all prebid modules.
Perfectly verify and control your setups at all times with proper Reporting and Alarms.
Automatically updated Prebid versions.
Please notice that the HB Manager is a module with its own pricing, so feel free to reach out to your sales contact if you are interested. Read more..
2. New SSP connections
We have added several new SSP connections, such as:
Teads
AdDefend
Plista
YieldLab
Amazon A9
Vlyby
Recognified
Please notice that we constantly add support for bidders and SSPs, and if you would like to have something added, please reach out to us. This is not something we charge extra for; we want you to experiment!
3. Template bar switch change - with additional GUI improvements coming!
The user interface has been improved with a lot of smaller changes, improving the work-flow and clarity when using the product. The one thing you might have seen though is the removal of the "Template" bar for the dashboards; which is now replaced by a "+" sign on your Dashboard overview. We did this as we would like to utilize more of the screen for the actual data.


As we have launched the HB Manager, we have also added a new top bar item called HB Management, where we will continue to add more information about the handling of the Header Bidding.

We will continue to make minor adjustments over the next few months, and one of the first things we will add is 35 new Pre-made Dashboard Templates; making it easier for the new users to get started. As always, the dashboards are 100% customizable so it is easy for you to build the combined setup you need in your day to day work!
4."Buyer" dimension in the reporting interface
It is now possible to pull data for your API reports on "Buyers" (usually media Agencies or larger brands with their own DSP connections). This is really good, as you can see how much particular clients are spending on your website. It works very similar to the "Advertiser" dimensions but focuses on the "Buyer" connection, rather than a particular advertiser. Read more about dimensions and metrics.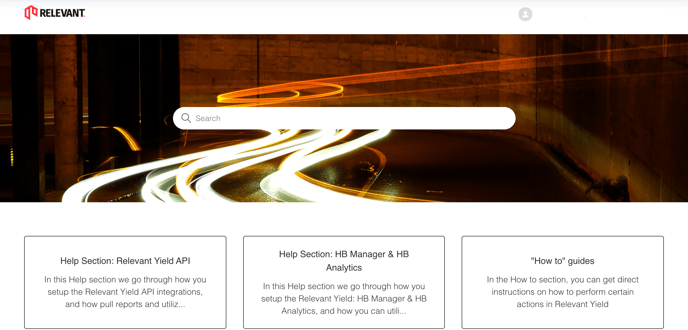 5. Support website
We are happy to announce that we have launched a new support website, where you can find help with the usage of the system. Here you will find information like:
6. Xandr Adserver detailed bid logs
If you are working with the Xandr (former Appnexus) Adserver and would like to bring in your detailed log data, this is now possible through the Relevant Yield Interface. This will enable you to get really gritty with the bid log data, and pull reports and build Dashboards through the Relevant Yield Interface.

Please notice that Xandr normally charges extra to extract this data for you, so it is related to a cost to Xandr (and we also charge a small sum to cover the tech cost).
What's next?



We will send you a monthly newsletter on the new releases, so you are always well prepared and can check out the new features right away. New releases can also always be found at our support portal here.
Feel free to reach out to us in support cases or any other questions you might have, we will help you out!