Getting started - Initial setup of templates and Publishers
Create one or more "Document templates", based on what you need to use for your Publishers. It can be based on things like languages or what you would like to show in the Invoice to the Publishers (we will cover Macros and details later on, no worries ). You add this in Global Settings -> Document templates. Below in the document we will go through this step in detail, as it is the largest and most complex step by far. Please notice that if you get stuck, just reach out to our support team.


Set language +and invoicing email addresses for all the Publishers you would like to send the invoice statements to. This is setup under each Publisher in the Publisher Accounts:
Setting up the Publisher account invoice info:
Invoice Email – The recipient(s) of the invoices. You can use semicolon to specify multiple email addresses.
Language – Notice that document templates for the language must be setup in Global invoice settings (see above). Otherwise the documents can't be generated for the publisher.
Optional settings:
Minimum invoice EUR – Overrides the setting for this particular publisher in the Global invoice settings.
Invoicing template – Overrides the default Invoice template for the publisher.
Balance Info Template – Overrides the default Info letter template for the publisher.
Setting up the Document templates:
The document templates are the templates used to generate the invoices. Basically they are HTML documents that can contain macros - like that is replaced with the invoice sum when the document/invoice is generated. There are also more advanced "macros" available that can handle lists and conditions, etc (for showing the list of revenue by segment for example). This is done by a 3'rd party library and the syntax is documented here: https://handlebarsjs.com

We will always help you with this during the Onboarding phase, but feel free to contact the support if this turns out to be complex - we know it is!

You can find the Document Templates in the Admin: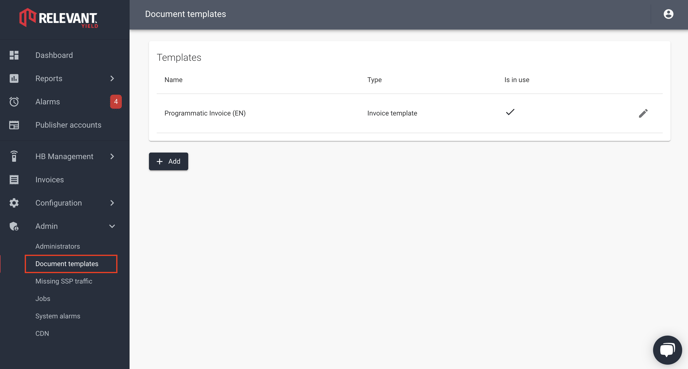 This is how the a document template looks when you start editing it, or create a new one: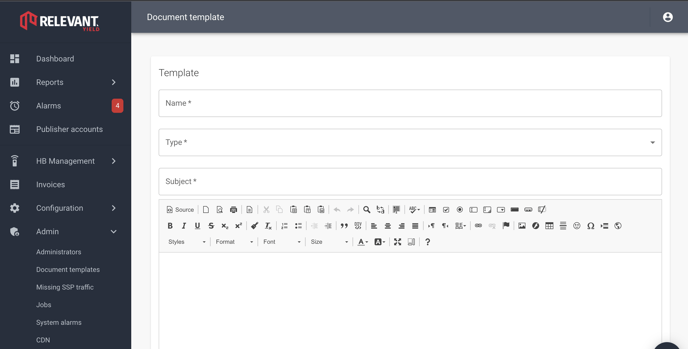 Options:
Type – Type of template, for Invoicing statements + Info letters – always select Invoice template.
Subject – Mail subject, notice that you can use the macros here just as in the actual document.
Insert macro in content – Here you can choose among the available macros and it will be inserted on the cursor position in the document below (doesn't work in Source mode where HTML is edited directly).
Using data tables in the document templates.
When creating tables in the documents (currently the list of segments / sites with revenue) - there is unfortunately no good way to insert the necessary {