Welcome to the Relevant Yield Feature and Information Letter!
Welcome dear user of Relevant Yield, this month we have several nice updates, and improvements, that we think will be really useful for you. Focus on this release is on enhancing the capabilities of the API Insight, and with our new metric additions it is quite a big improvement.

Please notice that we will release the new version customer by customer, as we need to re-populate some of the data, and verify system integrity, so it might take a few days for you to get the new version rolled out, but rest assured it is coming this week!

1. Google Analytics integration
2. Additional dimensions and metrics
3. Improved CSV support through email-imports
1. Google Analytics integration
The Google Analytics, or GA as it is also referred to is a connection showing data from one of the most used website analytics tools in the market.
With the Google Analytics connectivity, we can now import data from Google Analytics (GA). The GA connectivity works similar to the SSP and Adserver connections; but bring in some of the core metrics from GA. The GA data can be used in Reports and dashboards, just like your other metrics would; and it can even be used for the "publisher users''.
What's in it for you?
The GA data bring a few new things to the table. It is now possible to use a few new metrics, some directly from the GA data, and some calculated in relation to the existing metrics and dimensions.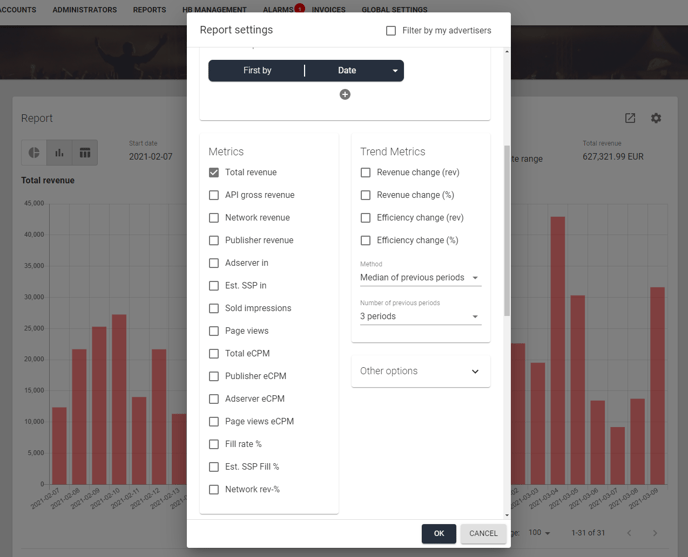 It also enables you to share these metrics to external stakeholders or publisher user accounts, as long as your GA is connected with the publisher user's GA; making it possible to let the Publisher user follow the website traffic as well through Relevant Yield: API Insights.
You can read more about it here.
2. Additional API Insight Metrics

We have now added several new metrics and dimensions to the API Insights reports, with several of these metrics being performance oriented. Please notice that the system needs to populate these new dimensions and metrics with data, so they might not be available during the first day of release; but rest assured that they will show up the next day.
The new dimensions are:
Deal type: Breaks down your deals based on what type of deal you are generating revenue through.
DSP: Breaks down your metrics through the DSP being used through the SSPs.
Payment type: Breaks down your metrics based on what type of payment is used to create the revenue, like impressions or clicks.
Media type: Breaks down your metrics based on what type of media is being used, such as display and native video.
Creative size: The creative dimensions that have generated revenue in your system.
The new metrics are:
Viewability%: The viewability in % of the traffic on the placement. It is calculated as viewable imps / viewable measured = viewability%
Viewable Imps: The number of impressions that qualified as being in view.
Viewable measured: The number of impressions that could potentially be viewable impressions.
Clicks: The number of clicks registered.
What's in it for you?
This will give you much improved insights into the performance of your website, and give you better optimization tools in the API Insight tool in general.
It also enhances the use of the tool for the sales teams, as they now have more hands on metrics that they can discuss with advertisers and become less dependent on the AdOps teams providing the numbers.
Please notice that not all metrics are available from all sources, and we would like to especially highlight that "clicks" is not the total number of clicks for all your impressions; as some SSPs do not have this metric available. So please take this into consideration when pulling your reports!
You can read more about the API Insight metrics here.
3. Improved CSV support through email-imports
With the introduction of the new dimensions and metrics, we have also improved the information that can be picked up through the CSV files. All the new dimensions and metrics are automatically added through the API imports, but for the CSVs, which are based on automated reports, you will have to add a few columns to the existing automated reports. Most of the larger SSPs are connected through APIs, but Magnite generally uses the CSVs a bit more than the other SSPs, so it might be worth investigating if you want to update your Magnite connection (if it uses CSVs).
Feel free to reach out to our onboarding team so they can help you with this.
If you want to read more about how the CSV files work, and what columns should be added, please consult our support portal.
What's next?
We will send you a monthly newsletter update on the new releases, so you are always well prepared, and can check out the new features right away. New releases can also always be found at our support portal here.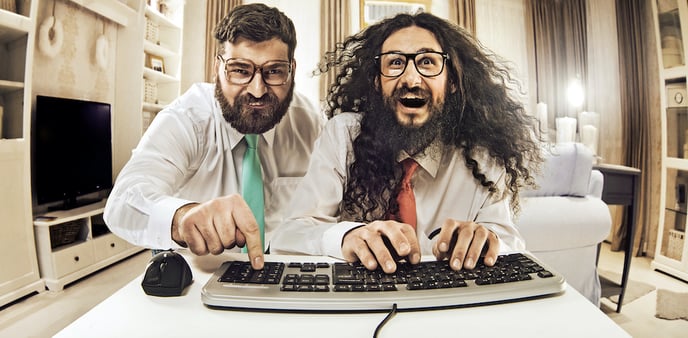 If you have any questions, feel free to reach out to me, the support or any other contact you might have, and we will help you out!