Welcome to the Relevant Yield Feature and Information Letter!
Welcome, dear user of Relevant Yield. The last couple of months we have been working on two larger projects and, of course, spent some time on summer vacations. There are a few topics to cover in this newsletter:
Improved Prebid Mobile and AMP support
New dimensions for direct campaign reporting: order and line items
Advanced reload functionality options in HB Manager
Several new SSP integrations and general improvements
A new support portal
As we need to import data for some of these new dimensions, we will release the new version over the next few days. Please, stay patient if you do not have the latest version when you read this!
1. Improved Prebid Mobile and AMP support

Prebid Mobile and AMP are both based on Prebid Server, and with the new improvements you can now work in a clean and proper GUI environment handling prebid for both Apps and AMP web-pages.

The Prebid Mobile is working with the default prebid SDKs, so it should be easy for your development team to work with our solution. However, we recommend that you reach out to your technical account manager during the onboarding of Prebid Mobile, so we can help you out, and make sure the servers are geared for your traffic; and the same goes for AMP if you would like to use that.

You can read more about Prebid Mobile here and it's Formats here:
Or have a look at our implementation guides for Mobile & AMP in HB Manager here:
Knowledge base - Implementation guides for Mobile & AMP
This upgrade is also reflected in our HB Analytics module, so you can see what is happening server-side for the prebid as well. Please notice that a few of the dimensions and metrics might not be available through this, as some of them are simply dependent on the client-side execution.
What's in it for you?
Prebid Mobile is built to handle prebid in Native App environment, as opposed to mobile web, and the build relies on the Prebid server. Inside the HB Manager you can now organize and handle your apps' utilization of prebid, and measure what is happening in HB Analytics.
The AMP handler in the HB manager is a little bit different, as it still works through the browser, but instead of relying on client-side technology, it utilizes prebid server, and the advantages that search engines might attribute to AMP type pages (usually better ranking, due to increased speed). AMP should increase the execution of your prebid calls in general, but it is dependent on how your website is built. So speed and a better user experience is the goal for AMP.
2. New dimensions for direct campaign reporting: order and line Items.
This is something that we have wanted to add for a long time. We are super happy that we now support more detailed direct campaign reports through the Relevant Insights reports and Dashboards. Currently we import data for these dimensions for Admanager, Xandr and Adform.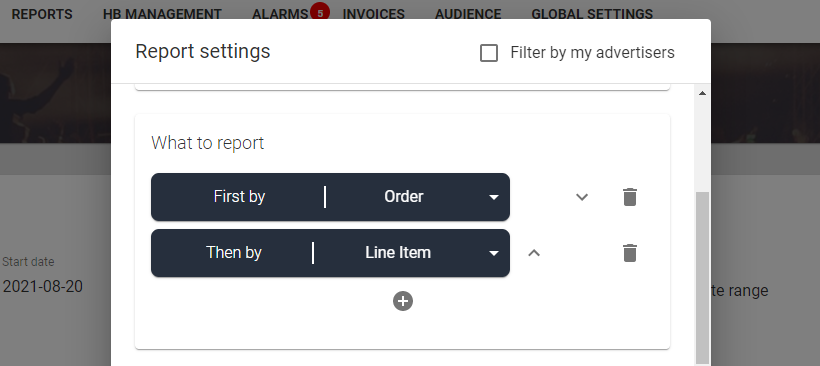 We have worked hard on trying to improve the "sales user" side of the product. This will make it possible for the sales users to monitor their "own" campaigns through the interface of the product. When the sales user can see the status of their campaigns themselves, this should help the AdOps team. These dimensions are available as filters as well.
What's in it for you?
The function helps you to get an overview of your direct campaigns, and the ability to drill down a little bit deeper into the direct revenue of the system.
You can read more about it in the dimension and metrics section here:
Knowledge base - dimensions and metrics
3. Advanced reload functionality options in HB Manager
We have added some advanced options to regulate the reload functionality for your Prebid placements: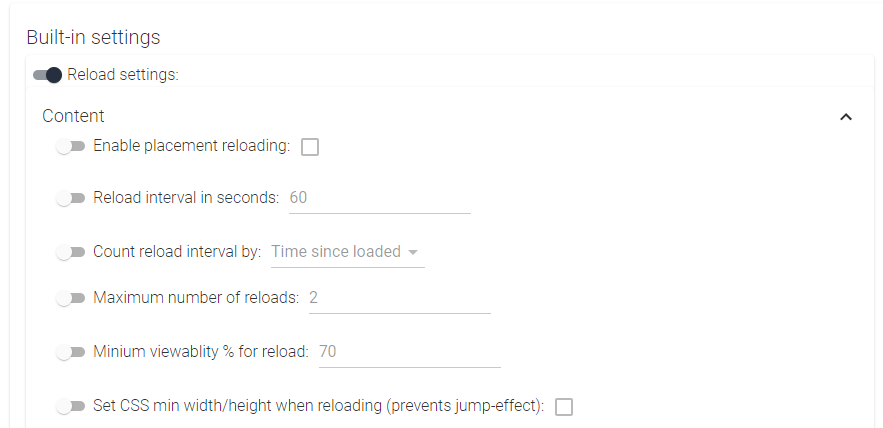 There are multiple options to select from for you to customize the reload to fit your needs.
Read more about it here:
Knowledge base - Reloads in HB Manager
What is in it for you?
It is a very easy and intuitive way to handle reloads that affect both your Prebid and Adserver call, making it possible to test and improve on your revenue levels. Finding that sweet spot between user experience and revenue maximization has never been easier...at least in relation to reloads!
4. Several new SSP integrations and general improvements
There are always many smaller improvements being done both on the surface and under the hood of the product. Here are a few to mention:
Updated all the names and logos for the SSPs
Improved the Teads API connection
Added ConnectAd API connection
Added SmartClip API connection
Improved and updated all the Google APIs
Improved support for several Prebid Video Outstream vendors

5. A new support portal
During the summer we launched and updated our new support portal. It contains the same information as before, but we now have a better chance to follow up on the articles and documentation we have.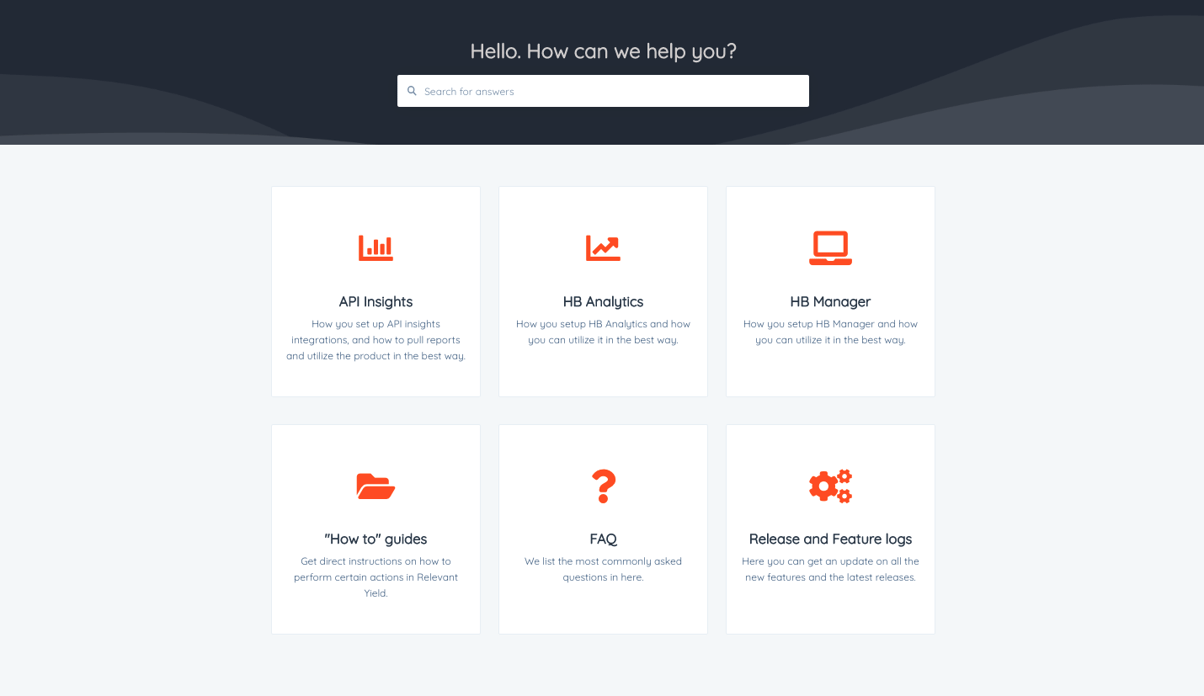 You can find the new support portal here:
https://help.relevant-digital.com/knowledge
Please keep in mind, you can always reach out to our first-line support by emailing: support@relevant-digital.com
What's next?
We will send you a monthly newsletter update on the new releases, so you are always well prepared, and can check out the new features right away. New releases can also always be found at our support portal here.
If you have any questions, feel free to reach out to me, the support or any other contact you might have, and we will help you out!